We are early still in a potentially large bull run and are currently seeing a small healthy correction in Bitcoin and Ethereum where the technical indicators for the market are being reset.
As we know both coins are the bellweathers of the crypto market and once Bitcoin stays over $10k and its long term moving averages we are still looking for more upside and dips are for buying.
Personally, I continue to generally hold the coins in my portfolio while adding a few new alt coins particularly in the DeFi space which has been absolutely flying over the past couple months. It's been a very profitable few months.
Technical Analysis: Bitcoin & Ethereum
Without going into too much technical detail, both coins have been flying over the past few months and we've caught the bulk of the move for some great gains so far that I will look to compound in the coming months.
Both charts are telling the same story right now, and we are seeing a tale of 2 divergences playing out. See attached ETH Vs USD chart (image No. 1) and a fantastic simple cheat sheet for divs here.
Another key point to mention is that when a coin pumps hard like ETH has recently it needs time to catch its breath and consolidate and dip a little. From a technical analysis perspective this manifests itself in the form of the price getting too far from the long term moving averages and the RSI being very high. When this happens it is a normal and healthy stage in a bull market to dip a bit and consolidate as we are seeing now.
If Bitcoin can have a small dip now with consolidation followed by a break to the upside it would be a very good sign for lots more upside.
One risk that could derail the Bitcoin bull market is if it remains tethered to the 'Risk on' traditional stock market but in general everything remains healthy at the moment and lets see how things play out.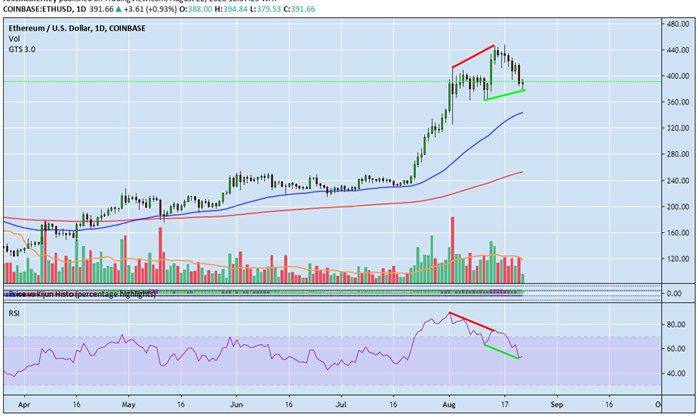 Ethereum Fundamentals
The Ethereum price has rocketed increasing 400% in 5 months.
This is largely driven by DeFi adoption and all other associated metrics have also sky rocketed.
Check out the fees people have paid to the Ethereum (Image No. 2) network since inception.
I can't read this record breaking quantities any other way than people are willing to pay more money to use Ethereum.
One legitimate concern is that Ethereum V1.0 is reaching capacity and this will limit growth. However layer 2 scaling solutions have already been deployed and are in use today and the drive to ETH 2.0 is still well on track.
Ultimately anything that is new and taking off in a big way right now is on Ethereum, its got incredible interoperability with its smart contracts and the network effects coupled with the blockchain platform size/security means it's where all the cool kids and cutting edge development is at these days.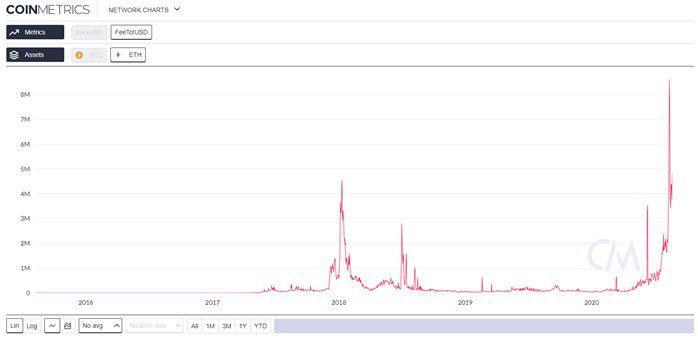 Altcoins roundup
There have been some huge gains over the past month and we've caught some massive ones (e.g. ALGO, AST, RSR, have all pumped minimum 500% recently).
Personally my approach when I make big gains early in a bull market is to sit on them and hold or else sell up to 50% of my stake to invest in other areas and sit on the remainder.
The market is being led by ETH and its DeFi ecosystem including stable coins, DEXs, yield farming and new and emerging novel use cases.
DEXs
As mentioned in my last post DEXs are booming. Some have associated coins and others don't. The coins I either hold or am watching are: BAL, KNC, ZRX, SNX, BNT, AST, LRC
General DeFi
Yield farming, Liquidity mining and other use cases are also booming and it feels like every week new volume records are being established. The coins I currently hold or am watching in this space are: KAVA, REN, UMA, RSR.
Other coins
I sold my HBAR and STRAT coins to reinvest in DeFi coins. I also reduced my NULS holdings. Still holding XTZ, OGN, POLY & ALGO, all of which have done very well recently.
RSR example entry points in a bull market
I'd like to talk a bit about market entry, i.e. when and the prices to buy coins.
I typically use 3 different strategies to enter a market:
1. "Buy the dip" – I probably use this approach the most. Once a market has broken out to the upside, wait for a retrace. For Bitcoin or Ethereum, any retrace of 20 – 30% in a bull market is a great entry. For alt coins in general the swings are wilder so larger dips are more common. Another method is to wait for a coins price to reach back and touch moving averages like the EMA 50, 100 or 200.
2. "Buy the breakout" – When price breaches a long term key resistance zone or an all-time high (even better) then buy the market then and look to piggy back on the momentum.
3. "Buy the throwback" – After a market has broken out of a significant resistance level then wait for the price to "throwback" to that same resistance level which more often than not acts as support and the price spring boards onwards and upwards from there.
The RSR Vs USD market shows multiple clean examples of all of these entry in the past 2 months (image No. 3).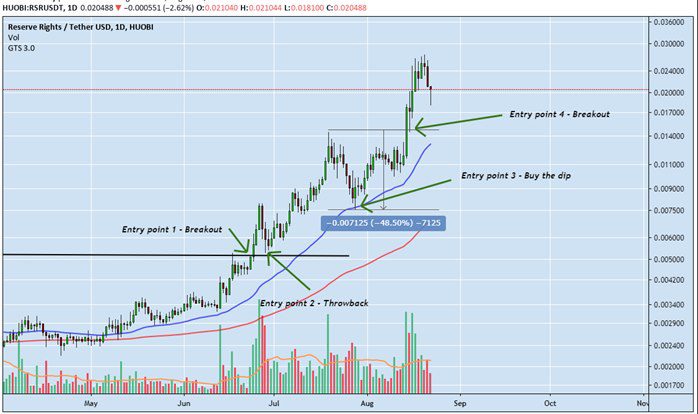 Depositing money into exchanges (good news)
Depositing money (e.g. £) into exchanges via bank transfer has been a slow process for many of us in the past and sometimes there have been unwelcome fees to boot.
So there's some good news on that front.
Many of the exchanges are introducing GBP wallets which means you can deposit more easily from your bank, rather than having to wire and convert to EUR or USD (which is where additional costs and delays can occur).
Tom Wake got in touch to say that he recently used the FPS (faster payments service) to place a deposit into Kraken for the first time recently and found it a pretty painless process.
FPS is like making an online bank transfer to a friend, in fact it's the same process if you use online banking. You just put in the account number, sort code and reference. You don't need to mess about with IBAN numbers or anything like that.
A few things to bear in mind:
1. Some banks can still be funny about seeing money going into crypto exchanges and are wary of the space in general (in fact some don't allow it at all!) so do a bit of Googling to see if your bank allows it. If it's your first deposit, don't be surprised if you get a call from your bank to confirm you're making the payment. When they ask what the payment is for it's sometimes easier just to say 'trading' rather than get into a debate about crypto with them
2. Pay in different amounts each time you deposit or withdraw (rather than using round numbers). So for example, £979.90 rather than £1,000. This helps stop deposits being flagged up as fraudelent
3. Make sure you put in the reference code they give you exactly as instructed. This is how they identify your payment and account and if you don't do this you could be subject to lengthy delays
FPS is fast. In Tom's example (Natwest into Kraken) he said it took less than an hour to appear and he was not charged any fees. They have a GBP wallet so the money appears in pounds and then he was able to buy Bitcoin. From there he had trading access to all their alt coins and for any coins they didn't have he simply sent some of his Bitcoin to one that did (e.g. Binance) to make trades.
Ok, that's it for today!
I hope you've enjoyed some nice crypto gains recently. Don't fret if you're not there yet. I believe we are still at the early stages of a potentially large bull run.