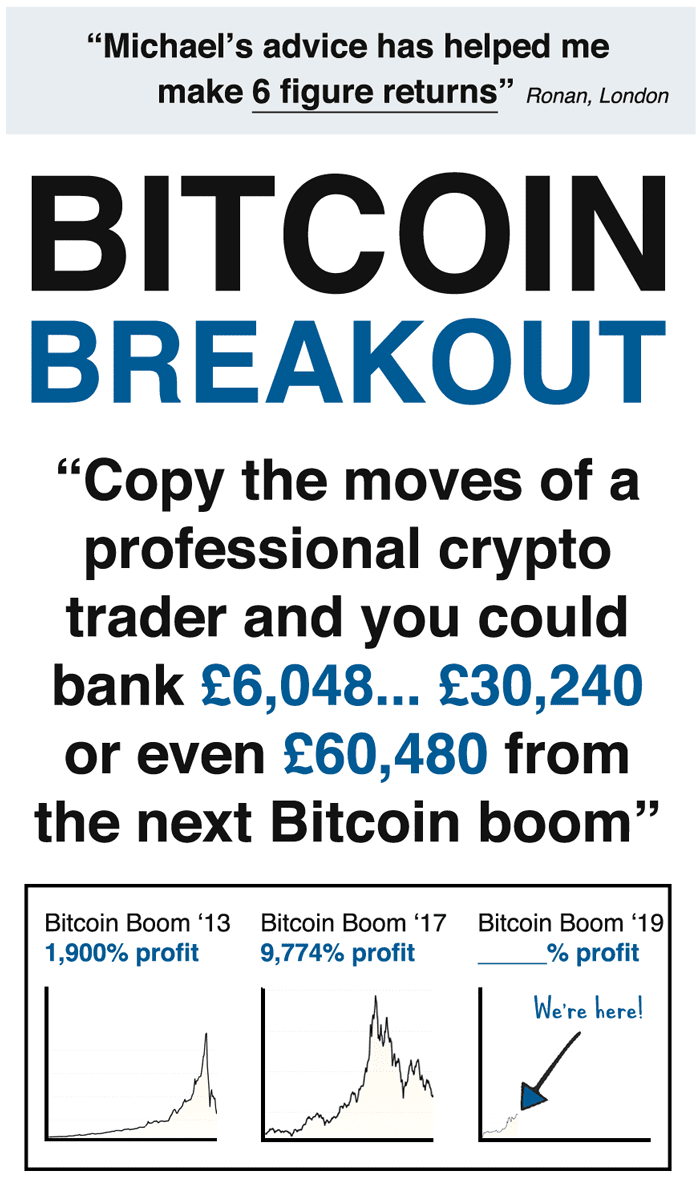 Dear Friend,
There isn't much time…
I believe the biggest boom we've seen in the history of crypto is about to take place any moment now.
I don't want you to miss out on what could be the greatest wealth generating opportunity any of us will see in our lifetimes.
Sound dramatic?
Good, it should do.
Imagine turning a £100 investment into £6,048… £500 into £30,240 or £1,000 into £60,480 or more…
And all you have to do is wait.
No screen monitoring, technical analysis or trading in and out.
Those are exactly the sorts of numbers I believe we're dealing with in the coming market cycle and here's the thing…
This is nothing new…
Since 2013 there have been multiple crypto booms, here are just three:

This is a trend that has repeated after every crypto market cycle…
If you'd invested £1,000 in the 2013 crypto boom you could have made a potential £19,000…
The same stake in 2016 would have swelled your account to £52,000…
And in the last major boom your starting bank could have reached a 'pinch me I'm dreaming' £97,740.
I want to show you how you could profit from the next big wave.
Because each and every time the price of Bitcoin and a select group of cryptos skyrockets…
And if you can get in on the right coins at the right time you could stand to make life changing money from this.
That's the reason I'm writing to you today.
Right now we are at the start of what could be the biggest boom market cycle these markets have ever seen.
Just imagine if you could turn an informed speculative bet of £1,000 into £19,000… £52,000… or £97,740 and then get out before the market turns.
Read on and I'll show you exactly how you could profit from the coming events.
It doesn't matter whether you're an experienced crypto trader or brand new to these markets…
This is an opportunity to make gains rarely seen in any other market as the story unfolds.
I've made life changing money from EVERY crypto market cycle since 2013 – now let me show you how to profit from what I believe will be the biggest yet
I'm Michael Mac.
I was an early investor in Bitcoin.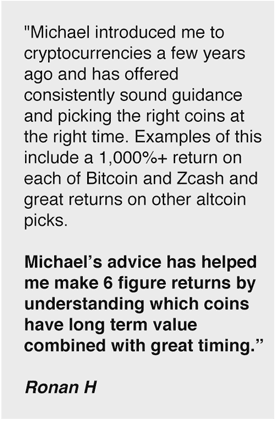 I first got involved in 2013 when I was working as a lead engineering consultant for a renewable energy company.
I managed teams of 20 or more on large-scale, multi-million pound windfarm projects.
While I enjoyed the challenge I also wanted a way out of the corporate routine and the relentless pressure.
At the time an economist friend introduced me to Bitcoin and the crypto space.
He was convinced that this 'digital money' and the blockchain technology behind it could be the future of money…
It really caught my attention.
This was a decentralised platform that couldn't be controlled or manipulated by governments…
A way for people in countries with high inflation, corrupt governments or little access to banks could store digital assets and make transactions.
At the time, Bitcoin was trading below $250 (today a single Bitcoin is worth $8,473).
I dipped my toes in and before long I found myself quitting my well-paid job to trade full time.
"I banked £845k profit from the last crypto boom"
I've successfully traded every crypto market cycle since 2013.
I'm not telling you this to brag or boast and I'm certainly not suggesting you'll become a millionaire overnight from crypto trading…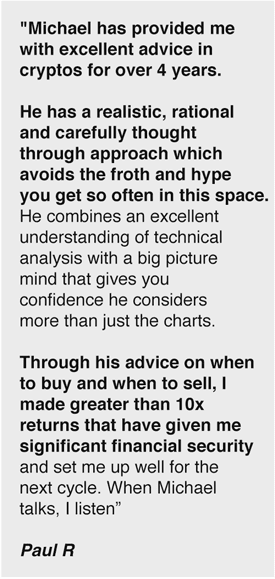 But I do want to show you that I'm the 'real deal'.
I have been actively trading the crypto markets since 2013.
It's enabled me to quit the 9-5 and live in 8 countries around the world.
And it's made me the kind of money I'd never dreamed possible.
But let's be clear, I made plenty of mistakes along the way.
As a newbie trader I didn't have the foggiest idea about how the markets operated or which cryptos to invest in.
I traded on pure adrenalin and emotion instead of focussing on the market cycle and the fundamentals behind each coin.
As with any form of trading if you don't know what you're doing you can lose money.
But if you know how to read the signs there is almost no limit as to how much you can make from this.
And right now we are at a major crossroads.
Because EVERYTHING over the last 12 months has been building up to a major event…
Institutional investors are lining up to flood the crypto markets and if you're primed and ready this could have the potential to turn modest £100… £500 or £1,000 stakes into £6,048… £30,240… or £60,480
This is no longer just a space for speculators and gamblers…
Developments in the regulation of Bitcoin and cryptocurrency could open the floodgates to MASSIVE institutional investment any moment now.
In the past the big financial institutions were nervous about investing in cryptocurrencies.
They saw it as too volatile and not tightly regulated enough.
But all this is changing…
In July this year The Intercontinental Exchange – parent company of the New York Stock Exchange (which handles $28.5 TRILLION worth of assets) – will launch their own cryptocurrency platform.
A massive global intermediary who can hold and handle cryptocurrencies in a regulated manner will provide a real, legitimate 'way in' for institutional money for the first time.
Those investors who weren't able to access Bitcoin in the past will finally be able to invest…
They'll be able to buy, sell, store and spend these digital assets on a seamless global network.
And when this happens the size of the crypto markets could EXPLODE in the coming days, weeks and months.
Those of us who are already invested in the coins that stand to benefit could easily make returns of 20X… 40X… 60X or more as this new wave of institutional money floods the market.

Let me just put the sheer scale of this development into context.
Right now the market capital of the crypto markets is around $270 billion.
That's with VERY little institutional investment.
But now that these barriers to entry are finally being lifted it paves the way for investment from banks, hedge funds, pension groups, mutual funds and investment trusts.
And this will dwarf anything we've seen before in the crypto markets.
Hedge funds manage assets of around…
$3.235 trillion
Pension groups manage assets somewhere in the region of…
$20 trillion
The moment this institutional money starts flooding in prices could skyrocket.
And the figures we've just talked about are peanuts when you look at the size of the global stock markets and the gold market.
The total market cap of gold is estimated at around $8 trillion and the world's stock markets are worth a staggering $73 trillion.
In other words we've barely scratched the surface…
That's why it's important to act now.
You'll want to be ready and in position the moment this money comes flooding in.
Because based on my analysis I believe you could EASILY see your investment appreciate by 6,048% or more.
That could mean turning a modest investment of £100… £500 or £1,000 into £6,048 £30,240 or £60,480.
And the good news is you don't have to do any of the hard work… no market analysis, research, or monitoring… because I do all that for you.
You can simply copy the moves of a professional crypto trader who has successfully navigated these market cycles since 2013.
If you're ready to join me just click on the button below and you can enjoy my advice for a full 90 days risk-free:

Let me show you how you could make £6,048, £30,240 or £60,480 from the coming crypto boom
But I need to warn you right now…
If you're interested you'll need to act now because this story is unfolding fast.
I first notified my existing members that the recent downturn was ending on 17th Dec 2018…
And on April 1st and 2nd I informed them that I believed we could be at the start of the next boom.
Since then the price of Bitcoin and Ethereum has already gone up 178% and 247% respectively.
But this is just the very start.
We have a LONG way to go.
The real gains are yet to come and there are a number of other cryptocurrencies I've got my eye on which I believe have huge potential in the coming boom.
But the wheels are already turning…
And I really don't want you to miss out.
The media is getting wind of this and ground-breaking projects involving cryptocurrency and blockchain technology have just been announced by global corporations. Each of these could send prices soaring imminently.
Facebook, JP Morgan and Mitsubishi have announced their entry into the crypto space…

Facebook have announced that they plan to launch a cryptocurrency called 'GlobalCoin' in 2020.
And there's a growing list of major corporations preparing to launch cryptocurrencies.
These include JPMorgan, Japanese messaging service 'Line', Japan's biggest bank MUFG…
… everyone from Air Asia to Paris Saint-Germain.
These are yet more signs that crypto is on the verge of becoming mainstream…
David Birch (who The Financial Brand named as "one of the top ten most influential voices in banking") sees a future where the privatisation of money will become so commonplace that local hospitals, supermarkets and even HMRC will launch their own cryptocurrencies.
And this isn't science fiction…
There are huge benefits for private and public sector firms who use cryptocurrency.
These include security, the removal of intermediary steps, middlemen and enormous cost savings.
And right now there's ONE unique group of cryptocurrencies that I predict could be the big stars of 2019…
Why I believe these 'S Coins' could even have the potential to make 80X or 100X returns
Everyone knows about Bitcoin…
Many people have heard about Ethereum as well.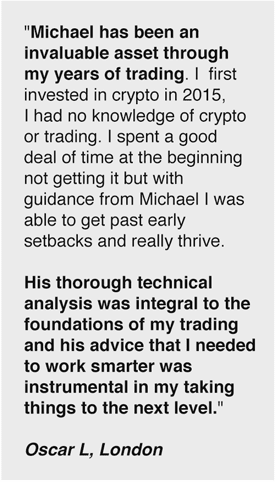 There are also another 2,211 other cryptocurrencies.
Some of these could have the potential to make 80X and possibly even 100X gains or more while others are completely worthless.
Right now there are a unique group of cryptos I call 'S Coins' which I'm keeping a very close eye on.
I believe over the coming months and years these could become a genuine challenger for cash and bank transfers and if they do, the technology and cryptocurrencies that power them could have genuine 'moon shot' potential.
Join me and I'll keep you fully informed every step of the way.
And that's just ONE group of cryptos I'm keeping my eye on.
I look at every cryptocurrency, tear it apart and ask difficult questions:
• Does the underlying technology have growth potential?
• Do the team behind the crypto have the necessary investment and funding?
• Does it have a genuine, real-world use?
• Are there any geo-political considerations that could affect its growth?
As well as maintaining my personal crypto holdings, I've shared my advice with a select group of traders over the years (most of them completely new to trading before they joined).
You can see their comments throughout this report. I'd love to help you enjoy the same success.
We could be about to witness the biggest crypto breakout we've seen in the history of these markets
Once you're in you don't have to do anything…

How many investments can you hand-on-heart say that about?
You just need to go through the initial set up (I'll show you how in step-by-step detail) invest in the key coins I believe have true potential in the coming boom and then leave it be.
I'll give you regular updates on the market cycle so that you'll know when's the best time to cash out. And you'll have that reassurance that someone is monitoring the market at all times for you.
I'll also let you know about any superstar coins on the horizon which have the kind of potential to make you 20X, 40X, 60X and possibly even 100X gains or more.
This is the kind of opportunity where in a few years time people will say:
"If only I had got in on this earlier".
That's exactly what people said to me after the last Bitcoin boom.
They saw the people that I'd helped navigate the previous cycles buy houses with their crypto profits…
… or start their own businesses, take completely different career paths and even retire completely.
How many investments have you come across which have made 1,900%… 5,200% or 9,774% gains in less than 2 years?
This could be a way to make incredible returns from what I believe could be the biggest boom we'll see in any market in our lifetimes.
Copy a real crypto insider and learn how to pick out the hottest trades
In 2017 I created the CRYPTO TRADERS' ACADEMY.
I called the top of the boom within the space of a few weeks and successfully picked out the bottom of the market by just days.
As a member of the Crypto Traders' Academy, you'll be coached, supported and advised how to trade the incredible opportunities that are about to unfold.
And identify the cryptos that could pull in 20X, 40X, even 60X gains.
Some of these are called 'alt coins' and could even bank 100X, 200X gains or more like they did in the last boom market cycle.
Yes, of course there are risks.
Many of the cryptos out there right now won't be around in a few years' time.
That's why you need to know which ones stand to profit the most as this market keeps growing.
Start your risk-free trial membership today and you can learn how I invest and trade.
Once inside the Crypto Traders' Academy you'll find a step-by-step online training programme based on the exact same strategy I use.
You'll start with a fast-track course in basic crypto investing – from setting up an account to buying your first coin.
You'll also enjoy access to a private members-only forum where you can get answers, share experiences and learn the insider buzz on what's happening in the crypto markets.
And here's the best bit…
You'll get tipped off (by email) to new buying and selling opportunities I've uncovered, including the exact instructions on what and how to buy.
That means plenty of trading opportunities as the current boom market cycle begins and the chance to make potentially life changing profits.
You'll also be invited to monthly webinars where you can hone your skills, learn new trading techniques and ask questions.
Join my Crypto Traders' Academy and you'll never be left scratching your head wondering what to do
• You don't need any previous experience and can start with as little as £100
• You won't be a slave to your screen or forced to time your entry and exit points to the millisecond
• You don't have to use spread or binary betting to take advantage
If you realise what an amazing opportunity this is, then I urge you to join the Crypto Traders' Academy and start your trial membership right now.
And let me reassure you…
You haven't missed the boat.
Despite the gains Bitcoin and some other coins have made recently, it's still VERY early days for this market cycle and for cryptos in general…
Bitcoin didn't even exist before 2009.
Since then 2,212 other cryptocurrencies and assets have been launched.
With the current Bitcoin bull market starting this is the best possible time to get involved.
As I keep saying this really is how life changing sums of money could be made.
If you want to make the most of the opportunity YOU NEED TO ACT NOW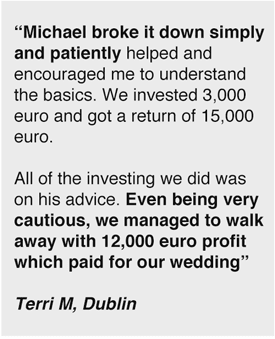 There is no time to waste…
The markets have already started rising in anticipation as we speak.
Bitcoin is up £3,169 since January this year.
And we're only just getting started…
Cambridge Associates, a US-based pensions and endowments firm have for the very first time suggested that…
"institutional investors should consider dipping their toes into cryptocurrencies".
And US asset management giant Fidelity recently revealed that this is ALREADY happening.
When they surveyed 411 institutional investors including pension funds, traditional hedge funds, financial advisors and endowments they found that 22% are starting to invest in digital assets.
40% report that they're looking to invest in digital assets in the near future.
These financial juggernauts command over $23 trillion dollars worth of assets and as we've seen many times before, it doesn't take a huge amount of extra demand for cryptos to send the price rocketing.
Why I believe the current crypto market cycle has the potential to go up 6,048%
I'm obsessed with analysing trends and patterns.
I use a combination of different technical analysis indicators to help predict future price movements.
This has been the staple of my trading.
As an engineer I love problem solving and building complex models – and that's exactly the approach I take to trading.
I spent over 6 months developing my very own technical indicator based on Divergence, Relative Strength Index theory, Ichimoku Cloud Theory and Price Volume Trends…
… as well as exponential moving averages, other foundational technical analysis methods and a number of unique indicators which I created myself.
(Don't worry, you don't need to understand what any of that means!)
I then reviewed 44 previous individual crypto market cycles from the very end of each bear phase (the bottom) to the peak of each bull phase (top) and found the average gains were 6,048%.
These are patterns that have repeated time and time again.
And I believe that we're only just getting started on the next boom cycle.
The world's leading tech companies and entrepreneurs agree that the technology behind Bitcoin could one day influence everything from advertising to banking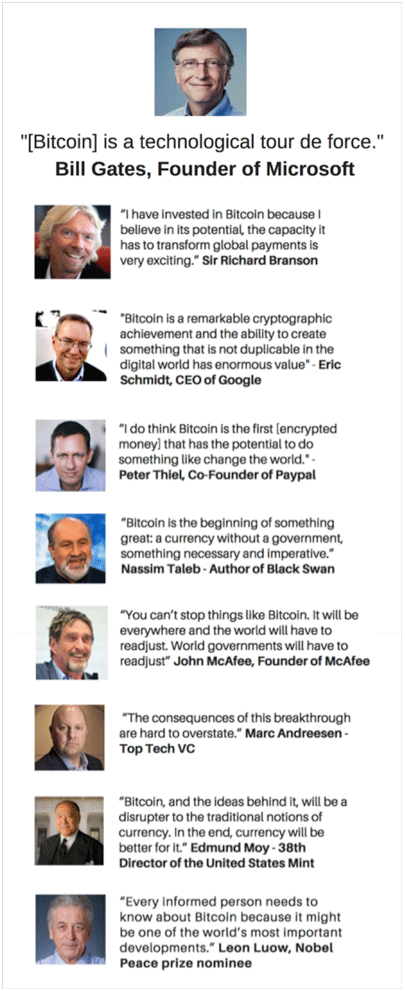 The tech behind Bitcoin is called blockchain…
People use all sorts of fancy metaphors to describe it but essentially it boils down to this:
The blockchain can be used for financial transactions, smart contracts… virtually anything which involves a flow of information.
It's secure and can't be manipulated.
And here's why that's a big deal.
The way the world is currently setup means that individuals control the flow of information…
Corporations… governments… banks…
They process financial transactions… grant and deny us access to our data… and in some cases manipulate the systems in place to suit their own ends.
As you can imagine this is a system which is wide open to abuses.
It's also vulnerable.
Think of the vast networks over recent years (such as the NHS) that have been held hostage by groups of hackers.
Currencies and platforms designed around the blockchain turn this on its head.
It's a shared memory which cannot be destroyed, manipulated or otherwise controlled by individuals because it is entirely peer-to-peer.
It's also instantly verifiable, almost impossible to hack and removes international barriers.
Here's what some of the most leading figures in tech and business have to say about bitcoin:
This technology could eventually replace bankers and brokers
In the future, the blockchain could do away with our need for banks and brokers for certain transactions…
No need for costly clearing houses, signatories or International transfer agreements like SWIFT or SEPA.
No need for time consuming (and expensive) legal transactions when transferring business or personal contracts.
The problem is you've got people saying that this technology is going to take over the world RIGHT NOW…
Yes, these ARE revolutionary ideas.
And in years to come we may look back at the invention of the blockchain as being one of the defining moments in modern human history.
But what we saw in 2017 – 2018 in the world of cryptocurrencies was hype running away from the technology and into the hands of gold rush speculation…
Just like it did in the dotcom boom in 2000.
We now take the Internet for granted.
The dotcom bubble burst but the Internet 2.0 rose from the ashes and now you have companies like Amazon, Netflix and eBay dominating the marketplace in a way that bricks and mortar businesses never could.
Amazon is now a trillion dollar company.
When Bitcoin shot up to $10,000 and then $20,000 in less than 12 months it wasn't because it was suddenly used as a global currency it was because it was on the crest of a bubble.
The hype had overtaken the idea…
The bubble popped in 2018 and I advised my members to trade out for a very healthy profit and wait for the start of the next cycle…
Now is the time to get ready to profit from the next Bitcoin boom
Most people think these boom market cycles are bad…
The truth is they are the PERFECT opportunity to make money.
In the crypto markets you can ride the hysteria all the way to the top and make 20x… 40x… even 60x gains in a year.
If you know what you're doing you can trade the hype.
Right now we are at a tipping point for Bitcoin and cryptocurrency to skyrocket again.
This is nothing new, this is something that has happened time and time again in these markets, it's a pattern that keeps on repeating.
Bitcoin shot up by 1,900% in the 2013 boom before retracing…
This would have turned your £1,000 stake into £19,000…
… it then shot up again by 9,774% during the last great boom market cycle in 2017.
This would have turned your £1,000 stake into £97,740…
Those who knew when to enter to the market and more importantly when to leave made the kinds of returns unseen in virtually any other market.
I've successfully traded EVERY market cycle since 2013 (not just Bitcoin but also Ethereum other cryptocurrencies) and based on my analysis and in-depth knowledge of the markets I believe that RIGHT NOW we are at the start of the next great price explosion.
And just to be clear, I think this coming boom could make people the kind of money you could retire early on.
If we see another year like 2017, I'll never have to work again
Crypto has changed my life.
I'm 35 and I'm already a millionaire off the back of this and I believe we're only just getting started.
When the institutional money comes on board it will completely change the landscape yet again.
I wouldn't be surprised if within the next few years Bitcoin alone could reach $100,000…
And my conservative estimate is that certain other key cryptocurrencies which I'll share with you could see dramatic gains over the coming months.
The volatile 'wild west' of old will become a staple investment and asset class for traditional investors.
(And in case you're wondering I'm not going anywhere.
I LOVE trading these markets and I'm not going to give up anytime soon – there's a thrill to trading these digital assets that you won't find anywhere else!)
These opportunities are never normally open to the 'little people'
Let's face it, ordinary private investors and traders like us are usually locked out of the best opportunities.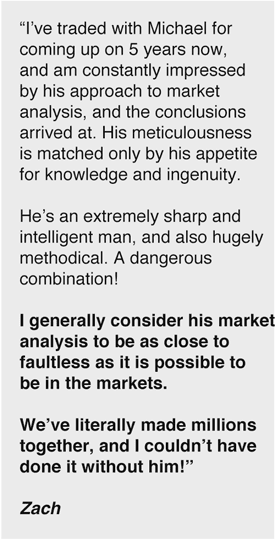 In the past, the big banks, investment funds and city institutions made sure they were first in line.
Meanwhile, you and I are usually left out in the cold with little or nothing.
Now that's all changed…
With the rise of cryptocurrencies, anyone can get a piece of the action from the very start… without having to pay a fortune in fees or spreads to a broker.
We don't have to get angry or jealous as the connected city types pocket another ridiculous bonus for playing a rigged game.
Our time has finally come…
I'll be right there, guiding you each step of the way
Join the Crypto Traders' Academy, and I'll introduce you to the coins that I believe have the greatest upside potential in the months ahead.
There will be chances to buy in at rock bottom prices which is why I urge you to act now.
Because as a member, you'll know how to trade the rising and falling markets.
You'll also be tipped off to the coins that could become the Bitcoins and Ethereums of tomorrow.
Of course, there's absolutely no way to predict exactly how much you stand to make.
Some coins will go up, some will go down.
I'll be there with weekly updates guiding you all along the way. You'll never be left alone.
That's why spreading your risk across a small basket of coins lets you enjoy the upside whilst protecting your bank.
These coins are below the radar… and that's reflected in the coins being significantly discounted to their true value.
But that could change at any moment…
Their price could take off without warning once the market wakes up to the advanced tech hiding inside these cryptos.
Join the Crypto Traders' Academy today and you'll know how to profit from the coming boom.
This is where potentially life changing profits can be made.
You'll know when and how to get in fast.
Some of these other cryptos could offer you the truly spectacular returns from modest stakes.
Join my Crypto Traders' Academy risk-free for the next 90 days
You could start with a very small investment to make a potentially huge return from this.
And Canonbury Publishing are underwriting the 90-day unconditional membership refund guarantee.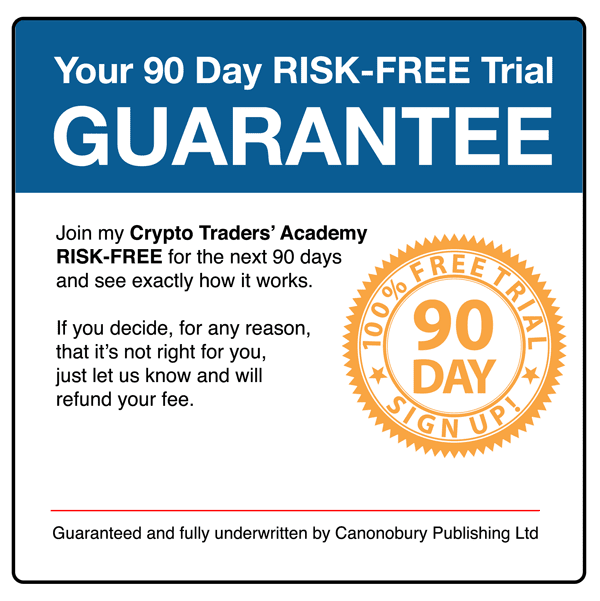 I've also made sure that the membership fee is priced at a level that most serious people could easily afford and still have enough cash left over to get started.
It means you can become a member of the Crypto Traders' Academy for just £97+ VAT per month.
I hope you'll agree that's excellent value for a training programme and alert service that could make you up to 20X… 40X or 60X your investment.
That's for everything.
Access to all the training plus the details of the cryptos I believe are primed and ready to take off.
As far as I'm aware no other crypto trading group offers this level of expertise and in-depth analysis
This is a shortcut to the most well-connected trading advice I've seen.
You'll know what's happening right now in the crypto markets…
You'll get a weekly update by email of the very best opportunities.
You'll also gain access to the Academy's private Social Media group.
This is a safe space where you can ask questions and interact with me, the team and your fellow members.
The subscription fee for the Crypto Insiders Club is normally just £97+ VAT a month but right now you can get your first month for just £47+VAT. After that your monthly fee will automatically renew at £97+VAT a month so that you can enjoy an uninterrupted service..
As part of this insiders' club you will be alerted to further crypto trading opportunities – what and when to buy and when to sell.
Of course, you can cancel your Crypto Insiders' Club subscription at any time and without further obligation of any sort.
For your total peace of mind this is all backed up by my personally underwritten 90-day risk-free guarantee.
If you're ready, take action right now.
But wait! If you're serious about this I'd like to offer you a further 30% discount right now
Once you see the kinds of profits that are possible I'm confident that you'll want to stay in this for the long haul.
Remember, there's the potential to turn a £100 investment into £6,048… £500 into £30,240 or £1,000 into £60,480 or more…
That's why, for the first time ever, I'm offering an annual subscription option.
You still get a full 90 days to decide if it's right for you but instead of your membership renewing on a monthly basis it will renew yearly.
Normally this would cost £1,164+ VAT but if you sign up today you can select this exclusive annual option for just £795 +VAT saving yourself 30%.
This is THE best way to make the most of this opportunity, learn from my regular updates and make informed decisions about the best times to get in (and out) of your trades.
If you're fired up and ready to go, let's get started!
Look, you've seen the potential.
You've also seen how Crypto Traders' Academy can help you to pick out the best cryptos.
This isn't a market for insiders only.
Or for the wealthy.
Or for Wall Street or City of London traders.
It's open to the rest of us…
If you're as pumped up as I am about the profit potential of Bitcoin and other cryptos, then start your 90-day trial today.
Best Regards
Michael Mac
Crypto Traders' Academy