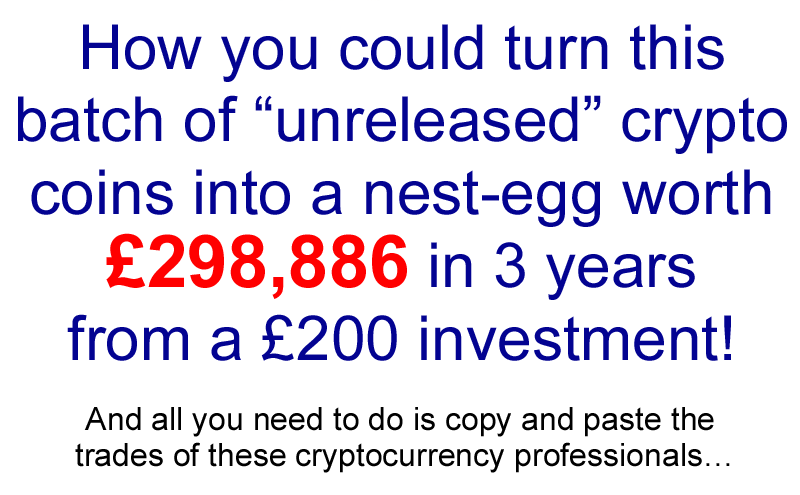 Hi
Thanks for your interest in the The Crypto Kickstart Programme.
Brilliant move!
Our crypto expert Finn will show you the #1 crypto coin he predicts will explode in value over the coming 6-12 months.
But what if you could take it further…?
After all, this is a once-in-a–lifetime opportunity here.
This sort of market madness doesn't happen very often, which is why I'm writing with some urgency.
As you know, cryptos have been soaring 2,194%…4,349%… 6,579% in as little as a year… this is what's really happening right now in the most exciting marketplace in our lifetime.
This is like nothing else we've seen, not even back in the tech boom days.
But there's more to it than just Bitcoin & alt coins…
There's another type of crypto coin that can deliver truly mind-blowing returns… but most regular people will have absolutely no idea about them, or how to invest.
That's because they've not yet reached the market.
They're known as ICOs, and when they're released, early bird investors can make gains of 980%, 1,395%, 3,825%, 6,190% or more within a year as they take off.
Hold onto them for longer, and the results can be mind-boggling.
Look, here are the top 3 ICOs of all time – and the top ICO performers this year.

Yes, I know, I know! These gains are crazy! But as you've seen with alt coins and Bitcoin, these kinds of interstellar rises in price really are possible.
But you need the help of the experts if you're going to pick the big winners in this mad race.
Which is why I've launched a service called the Crypto Trading Academy.
No experience necessary – just copy the moves of these crypto-currency traders
If you can respond to this invitation today, I can give you a direct hotline line to a group of professional crypto-traders (including Finn McCoyne) who will reveal the ICO's you can invest in over the coming months. In fact there is one ready to go right now but you need to act fast.
To give you an idea of the quite frankly ridiculous gains that you could make …
One of the ICOs picked by Finn is now up 149,443% since 2014….
That's not a typo.
I really do mean over one hundred and forty THOUSAND percent.
That's enough to turn £200 into £298,886… in THREE YEARS…. from just ONE crypto coin ICO..
Finn actually advised a select group of traders on this and some other ICO's and here are just a few of their comments:
"On Finn's advice I invested in Ethereum at under $2, I made 15x my initial investment… crypto trading has allowed me to give up the horrible 9 to 5 temp jobs that I had been doing prior to my investment in Ethereum…
… he pointed me in the direction of a number of other ICOs, all of which I have profited from. I'm well on the way to becoming a millionaire now.
Crypto trading has given me financial security and the freedom that comes with working for yourself, I am under no illusion that without his advice and guidance that this would have never happened."
O. Long, London
"Finn introduced me to crypto three years ago and under his guidance I have realised 10,000% profits and gained an inherent and deep understanding of the markets I would have found it hard to have otherwise. A number of ICO recommendations he made have made be obscene profits and I'm happy to say that I'm now in the process of building my first mortgage-free home."
D. Magnier, Amsterdam
"I began trading Cryptocurrencies in 2014 with little knowledge of the crypto sector and some knowledge of trading markets, later having taken Finns advice to invest in the MaidSafe and Ethereum ICOs when my Bitcoin holdings were stagnating.
Through this initial piece of advice and countless others my holdings have gone from a small nest egg to a significant life-changing holding of over £500k with Maidsafe increasing by over 6000% and Ethereum increasing by an almost unbelievable 130,000%."
Terry M, Dublin
And I want you to be sending me comments like that!
Which is why I highly recommend you at least take a look at Finn and the teams recommendations today if you can, no matter how sceptical you are.
I doubt you'll ever be this close to an opportunity to make serious money like this ever again.
This is the best time in your life to get into these coins or any other investment for that matter.
Not next year, next month, or even next week.
Right now.
You don't need any experience in crypto trading or any kind of trading at all. Our experts will show you how to invest, step-by-step, in their recommended ICOs. You can invest as little as £100 or £200 then buy and hold.
If that's all you want to do, that's fine. Sit back and relax. You really don't need to do much else.
In 3 months, 6 months or even a year you could see your investment skyrocket by 1,610%, 2,924% profit or more.
But that's not all the Crypto Trading Academy can offer you…
Our experts will also give you their latest alt coin recommendations too.
Just like the one Finn is sending you in the Kickstart Programme.
By adding more of these to your roster, you can build a professional alt coin portfolio that turns into a long term nest-egg for your family.
You won't have to do any of your own analysis. No need to study charts or learn technical indicators.
All the research is done for you, so this won't take much of your time.
You can fit it around your commitments… day or night, it's up to you.
But if you are up for a little more active trading, the team will also show you how to trade the spikes and drops of this volatile market for more regular gains – often weekly.
You'll get clear buy signals, stop losses, and 'take profit' levels.
So you can simply copy the pro crypto traders' moves.
To give you an idea, these weekly 'copy and paste' trading signals have made our lead crypto trading expert over 4,000% profit since 2016.
Again, I realise these are crazy figures but this is what the market is really like, as you know very well already!
Remember, you don't need any experience because you can 'copy-and-paste' these trades, with their support and coaching to make sure you know exactly how to do it.
If you're interested, we're offering a discounted 30 day trial place on the Crypto Trader's Academy today, so you can see what's all about.
 There's no commitment whatsoever.
 You could even invest in their recommended ICO and then walk away from the Academy…
 …it doesn't matter, even if it makes you thousands in profit.
And think of it like this, investing in just one of their recommended ICOs could potentially make you life-changing money… literally hundreds of thousands of pounds from a minimal investment… and all you have to do is buy and hold.
Of course, there are risks attached. I'm not going to pretend that every recommendation will skyrocket or go your way.
This is a highly volatile market and obviously I cannot predict the future. You need to be able to invest money you can afford to lose.
A lot of the ICOs that will be released are going to be rubbish and make investors nothing…
So simply wading in with zero knowledge will not work.
This is why I'd urge you to grab this opportunity to follow these professionals into the market, and copy their trades.
I passionately believe that this market has a long way to go and that there are incredible, life changing profits to be made if you follow the right methods.
Crypto Traders' Academy is a way to help ordinary people profit from an opportunity to build serious long-term wealth.
Your trial membership will get you:
The top 'buy and hold' ICO recommendations right now, these are the unreleased coins with the potential to make stratospheric gains in a very short space of time. Risky, yes, but you can invest a small amount of £100 or less.
Our experts' top alt coin recommendations. You've already ordered your copy of the Kickstart Programme – this will add coins to your portfolio, so that you can steadily grow your wealth over time. All the research and analysis is done for you.
Short term 'swing trades' with entry price, exit price and stop losses so you can just copy and paste! With this strategy you could make gains of 53%, 134% and 170% in a week!
Support and advice from the pros, so you know exactly how to invest, without stress or confusion.
Whether you're a newbie or an experienced trader, you can simply follow the pros and choose how active or lazy you want to be.
And remember, you can get started with only £100 – £200.
But I'd urge to grab this opportunity while it's hot! These massive life-changing price moves won't be available for ever.
Come and join the team while this is still relatively under the public radar and some of the biggest gains are still ahead.
Bearing in mind the kinds of gains these traders are making, I think you'll be surprised by the price.
How much membership will cost…
Membership of the Crypto Traders' Academy is only £97 a month. However, once you see the profits you can make, that £97 a month fee will seem like a drop in the ocean.
But you won't have to pay nearly that much for your trial.
Today you can have your first month's membership for just £47 – which is totally refundable in the next 30 days. If for any reason you feel this isn't for you, cancel within 30 days and I'll refund that membership fee in full.
As an extra benefit you'll also get access to the CTA private Facebook group. This is a safe space where you can ask questions and interact with experts and fellow traders.
Come and see for yourself how much our insiders are making from this crazy market.
On top of that, you'll get expert insights and coaching from a team of crypto traders who have made literally millions from this market.
It's not too late for you to get a piece of this action, but you need to act now.
So if you're ready, lets do this!
Click here to try Crypto Traders' Academy on a 30 day risk-free trial.
Nick Laight
PS: Here's a chance to copy the trades of a group of crypto-traders making a killing from this marketplace. One of Finn's 'buy and hold' recommendations is up 149,443% since 2014. If you're interested in taking your crypto investing to the next level, click here for a discount trial membership of the Crypto Trader's Academy.
*As of 6th December, 2017.
Risk WarningThere is a risk of loss in all trading. Cryptocurrencies carries significant risk and should only be undertaken by those who can afford to lose some or all of their investment.
Cryptocurrencies is by its nature speculative and can be volatile. Past performance is not indicative of future results. Before investing, or if in doubt about the suitability of an investment please seek independent financial advice. Cryptocurrencies are leveraged products. They may not be suitable for you as they carry a high degree of risk to your capital and you can lose more than your initial investment. You should ensure you understand all of the risks.
Testimonials
The testimonials you'll see are all from member's of Finn's private facebook group or from direct messages he has received.
Contact email: insider@cryptotradersacademy.com
Contact Customer Services: Canonbury Publishing Ltd, Unit 5, Hurricane Way, North Weald, Epping CM16 6AA. Tel: 01992 618 045 To unsubscribe from future Crypto promotional emails, please click here
© Canonbury Publishing Ltd
Registered Office: Canonbury Publishing Ltd Curzon House 24 High Street Banstead, Surrey SM7 2LJ United Kingdom 01992 618045