It's been another very profitable week in crypto markets and certain quality alt coins in particular are making large gains. The key question on everyone's lips….. are we seeing the birth of another alt season??
Bitcoin & Ethereum Price Action
We know from past cycles that for alt coins to go ballistic, Bitcoin needs to be in a steady uptrend in a bullish macro environment. Bitcoin has been consolidating in the $8-10k range for the past 75 days. Bollinger bands are at their tightest level since November 2018 and very tight Bollinger Bands usually precede a large move in either direction.
As highlighted in my last post, I personally wouldn't be surprised to see a dip before price moves up, however given the price action of the past week, conditions are starting to look more bullish.
Bitcoin AND Ethereum are in a key decision zone from a technical perspective. They are consolidating below key horizontal and descending resistance lines. If we can see breakouts on high volume above $10.4k for Bitcoin we could be heading for the moon in the second half of 2020.
However, we are at resistance and until this decisive breakout occurs, the entry risk is higher. ETH Vs BTC is trending northwards and has cleared a key technical hurdle and looks good for more gains in the near future (see the ETH Vs BTC chart below).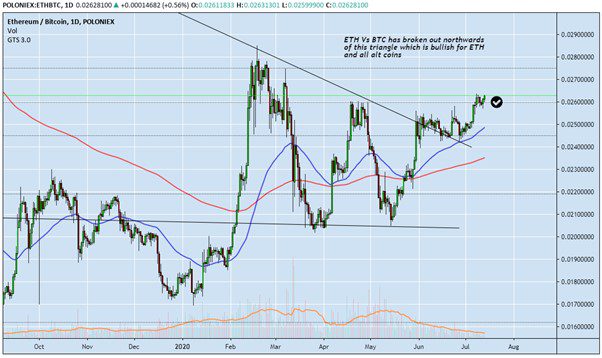 One thing is for sure, I am holding my BTC and ETH with strong hands.
Alt Season around the corner?
As we know, Bitcoin is the bellweather of crypto and Ethereum is the bell weather of alt season.
For a bona fide Alt Season we need:
1. Bitcoin in a steady uptrend. Verdict: Waiting on breakout above
10.4k for confirmation of this.
2. Ethereum trending up against BTC. Verdict: Too early to know for sure, but arguably we are there already or in the very early stages.
3. A prolonged Bear market where most alt coins lose 85%+ of their
value. Verdict: has already happened, see 2018 & 2019.
4. A prolonged accumulation period where price action trends side ways and a 'price floor' and reversal of trend on higher time frames is established. Verdict: Has already happened in 2020.
5. New narratives for extreme high valuations. Verdict: I believe this is now in place too, particularly with the rise of value locked in DeFi (Decentralised Finance) over the past 2 weeks. There are very high quality brand new crypto technologies being deployed right now which could be worth massive sums in the next decade including DeFi, Stable coins, Security Tokens, Proof of stake & new Blockchain Scaling Solutions (e.g. ETH 2.0).
As you can see, there is a strong argument for an alt season having started or starting soon. If Bitcoin can break out then I'll be even more confident.
Owning ETH is like owning an index fund of alt coins as so many coins are built and operated on the Ethereum blockchain and need to spend some ETH to function.
A lot of the trash coins from the 2017 ICO rush have been swept away and the value is near zero and a lot of the quality coins with tangible use cases are coming to the fore for the upcoming Blockchain renaissance.
The more bullish the conditions are the more new alt coins I will buy
and one or more of these coins are hopefully that golden ticket to 10x, 20x or more gains which I made in past bull cycles.
My own Portfolio
My own Portfolio remains approx. 40% ETH, 40% BTC & 20% alt coins. I am continuing to accumulate positions and buy any dips in the coins I have been discussing over the past few months including OGN, ALGO, XTZ, HBAR, POLY, UMA & NULS.
Remember, it is better to buy dips in price or in advance of large moves rather than chase large pumps. Patience is key.
New Alt coin Pick – RSR – 'Reserve Rights'
RSR is a new coin this cycle which I have been keeping tabs on as I have liked the project team and mission. It's investors aren't too bad either and they include Coinbase ventures and Peter Thiel.
It's also an additional way to gain exposure to stable coins (as well as Ethereum). RSR is built on Ethereum and the protocol consists of two tokens:
1. RSV is the stable coin that tracks the USD
2. RSR is the main protocol token which is used to stabilise RSV and can be used as a form of crypto 'quantitative easing' for RSV.
They have a lot of detailed material on their website and I encourage you to check it out and see for yourself.
You can find more information on their website and also over on coinmarketcap.
It's a very exciting project and a coin that I will be looking to as a long term hold. Its market capitalisation is only 60 million dollars so is still in the early stages of growth.
From a technical analysis perspective, recent price action has been parabolic so I will wait for a retrace before entering the market in any meaningful way and increasing my holdings.
Even though this coin could pump massively, one of my investing rules is never to buy a coin when there is a bearish divergence present in the chart below (see diverging red lines) and there is one now so I will wait for the price to fall and buy a dip. I have buy orders set in the green zone in the attached chart (around 5000 to 7000 sats).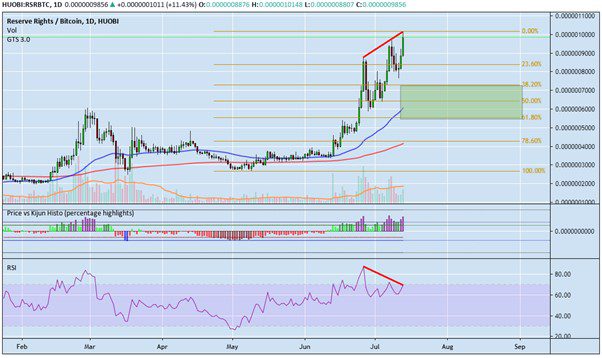 The only main market for RSR is on Huobi which is a major Asian exchange.
Next week I will have more high quality alt coin picks as conditions and projects improve
Curated News Roundup
We still await eagerly any progress and updates on Ethereums scaling mission for ETH 2.0
DeFi has grown explosively over the past 2 weeks
Bitcoin on Ethereum is a big opportunity, but the really big opportunity is everything could be on Ethereum (security tokens) in a decade once Ethereum can scale effectively.
Trading tip of the day
"It is impossible to call the top or bottom of markets consistently. Trade with the trend."