Dear Friend,
You're probably sick of hearing about Bitcoin…
About how if you'd only invested a few pounds in 2009 you'd have enough money to retire on today…
Look it's true…
Early investors in Bitcoin have pocketed a fortune.
A single Bitcoin that could be picked up for a few pennies in 2009 is now worth £10,535.
And the crazy thing is the price is still rising today…
Bitcoin is up 904% in 2017 alone…
And leading 'alt coins', such as Litecoin, Ripple and Dash are up 1,986%, 3,756% and 5,463%.
This is like nothing else we've seen before, not even back in the tech boom days.
The good news is you haven't missed the boat.
This boom goes FAR deeper than just Bitcoin and Alt Coins.
You see there's another type of crypto that can deliver truly incredible returns… but most people have absolutely no idea they exist or how to invest.
These 'new' cryptos skyrocketed
3,702%

,

6,245%

, and

4,171%

in 2017

Pick the right coins before it reaches market and the potential returns are mind boggling.

I'm talking about the kinds of profits that could turn £200 into £2,876… £14,341… £37,825 or more.

Let me explain…

When a team develops a new cryptocurrency they can launch what's known as an ICO.

It's a form of fundraising that entirely involves cryptos…

You send one form of crypto and get a new one in return.

The thing about ICOs is that there's only ever a fixed number of these 'tokens' available.

That means if you get in early and the application proves popular, new demand will come in and the price can skyrocket.

I call them 'super cryptos'…

Because it means that you can often pick up individual cryptos for just pennies… and see the same cryptos shoot up in value 3 months… 6 months… 12 months later.

In 2017 we've seen more ICOs than ever delivering lifechanging returns…

OmiseGo has skyrocketed 3,702%… Populous has jumped 6,245%… QTUM has seem gains of 4,171%…

Hold onto them for longer and the results can be mind-boggling.

Just take a look at some of the top ICO performers in the crypto space.
Yes, I know, these gains are crazy!
But as you've seen with alt coins and Bitcoin, these kinds of interstellar rises really are possible.
But you need the help of the experts if you're going to pick the big winners in this mad race.
That's why I've launched a service called the Crypto Traders' Academy.
No experience necessary – just copy the moves of these crypto-currency traders
If you can respond to this invitation today, I can give you a direct hotline line to a group of professional crypto-traders who will reveal the ICOs you can invest in over the coming months.
In fact there is one ready to go right now, but you need to act fast.
To give you an idea of the quite frankly ridiculous gains that you could make …
One of the IPOs picked by these expert is now up 149,443% since 2014….
That's not a typo.
I really do mean over one hundred and forty THOUSAND percent.
That's enough to turn £200 into £298,886… in THREE YEARS…. from just ONE crypto ICO.
He actually advised a select group of traders on this and some other ICOs and here are just a few of their comments:
"On Finn's advice I invested in Ethereum at under $2, I made 15x my initial investment… crypto trading has allowed me to give up the horrible 9 to 5 temp jobs that I had been doing prior to my investment in Ethereum…
… he pointed me in the direction of a number of other ICOs, all of which I have profited from. I'm well on the way to becoming a millionaire now.
Crypto trading has given me financial security and the freedom that comes with working for yourself, I am under no illusion that without his advice and guidance that this would have never happened."
O. Long, London
"Finn introduced me to crypto three years ago and under his guidance I have realised 10,000% profits and gained an inherent and deep understanding of the markets I would have found it hard to have otherwise.
A number of ICO recommendations he made have made me obscene profits and I'm happy to say that I'm now in the process of building my first mortgage-free home."
D. Magnier, Amsterdam
"I began trading cryptocurrencies in 2014 with little knowledge of the crypto sector and some knowledge of trading markets, later having taken Finn's advice to invest in MaidSafe and Ethereum ICOs when my Bitcoin holdings were stagnating.
Through this initial piece of advice and countless others my holdings have gone from a small nest egg to a significant life-changing holding of over £500k with Madisafe increasing by over 6,000% and Ethereum increasing by an almost unbelievable 130,000%"
Terry M, Dublin
And I want you to be sending me comments like that!
That's why I highly recommend you take a look at Finn and the team's recommendations today, no matter how sceptical you are.
Not next year, next month or even next week.
Right now.
You don't need any experience in crypto trading or any kind of trading at all.
Our experts will show you how to invest, step-by-step in these recommended ICOs and you can invest as little as £200 in most cases and simply buy and hold.
Meet the crypto insider who turned £1,200 into
£33.7 million

 trading cryptos

Meet Finn.

That's not his real name, I can't reveal that here. He trades private client accounts and can't afford to take risks with their money.

(When you see the amounts of money involved you'll understand!)

He was an early investor in Bitcoin.

When he first got involved in 2011 I was working as an economist for the public sector.

At the time, Bitcoin was trading below £1.50.

Based on his analysis of the tech and the potential demand, he was convinced Bitcoin could be huge. So he managed to scrape together £1,200 and bought around 800 Bitcoins.

That decision changed his life.

The price of Bitcoin skyrocketed by nearly 2,000% and within a year he gave up my job and started trading full-time.

By any measure that's an incredible achievement, but for Finn this was just the start.

Today, in November 2017, the price of a single Bitcoin is £7,350. That small investment back in 2012 is now worth £5.88 million.

(His portfolio is worth considerably more than this – you'll see why in just moment).

I'm not telling you this to suggest you'll become a millionaire overnight trading crypto, but I do want to show you that this is the 'real deal'.
He bought Ethereum at 24p, it now trades at
£346

… for a single coin!

The technique I'll share with you has personally made our insider over £15 million in a single trade.

You see Bitcoin was just the beginning…

He saw the potential in a project called Ethereum before all the hype and media attention…

… before the coin was even listed.

He invested in at 24p and then waited for it to get listed on the exchanges.

He then sold it all the way up to $400.

He also bought a coin called MSC for $3 and sold it for $160 (I got out at the right time because MSC is now worth hardly anything)

Finn's strength lies in the fundamental analysis.

He's paid by some of the most influential financial institutions in the world to conduct independent risk assessments.

He's a contributor to Coindesk, have presented to the British Government (DoE & BIS) on blockchain technology and have even advised on a Pan-Eurpopean blockchain microgrid product!

He takes every new cryptocurrency before it has even been listed, tear it apart and ask difficult questions:

• Does the underlying technology have growth potential?

• Do the team behind the crypto have the necessary investment and funding?

• Does it have a genuine, real-world use?

• Are there any geo-political considerations that could affect its growth?
I'd love to help you get in on the next Ethereum… IOTA… or Neo
I've convinced Finn and one of his most trusted traders to shares his tips for you.
We've setup the Crypto Traders' Academy to help ordinary people, just like you, profit from this incredible opportunity
This is for newbies and experienced traders alike.
He's coached family members, friends of friends and more recently interested investors through the academy.
You can see the kinds of gains they've made throughout this report.
In many cases these are life changing amounts…
Enough to build property portfolios… retire early… break free from the 9-5.
I would LOVE for this to happen for you.
But look, please understand this is a very volatile market and obviously no one can predict the future.
You absolutely need to be able to invest money you can afford to lose.
However our insider believes passionately that this market has a long way to go and that there are still incredible, life changing profits to be made if you follow the right methods.
Imagine turning a £200 investment into
£7,404

…

£12,490

… or

£8,342

in 12 months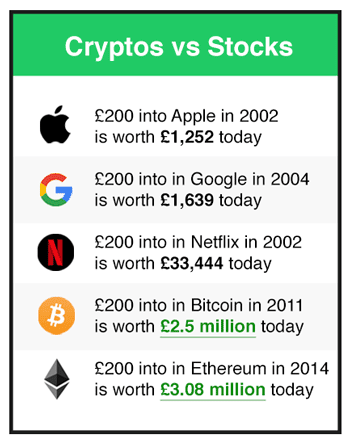 You put £200 into an ICO and then just forget about it.
Then 3 months… 6 months or 12 months later (once the coin has gone 'live') withdraw your profits.
Our insider has identified a batch of new ICOs which I believe have the potential to disrupt key industry.
These could skyrocket 1,976%… 2,987% or 27.786%+.
I want to make sure you're primed and ready if that happens.
Because those who get in early enough could be in for a profit ride that dwarves Bitcoin's 2017 boom.
The best thing about these ICOs (that's what they're called) is that you can invest £200… £500… whatever you want to put in and then simply forget about it.
You're not spending your days trading or chart monitoring or anything like that.
If that's all you want to do, that's fine. Sit back and relax.
Litecoin is up
1,986%

… Ripple is up

3,756%

… and Dash is up

5,463%

this year so far

But that's not all the Crypto Trading Academy can offer you…

Our experts will also give you their latest alt coin recommendations too.

With the right guidance you can often turn small stakes into 10x, 30x or even 50x profit by choosing the right 'alt coin' and getting in at the right time.

Just look at the facts…

Litecoin, Ripple and Dash are some of the most well-known cryptos outside of Bitcoin and have grown 1,986%… 3,756%… and 5,463% since January 2017.

Let me translate that into 'real money.'

If you had bought just £100 worth of Litecoin in January this year that investment would now be worth £1,980… £500 would have turned into £9,900.

£100 in Ripple would have turned into £3,756… and £500 would have turned into £18,780.

£100 into Dash would have turned into £5,463… and £500 would have turned into £27,315.

By adding these trades to your roster you can build a professional alt coin portfolio and trade the booms and dips while you're waiting for your ICOs to mature.
You won't have to do any of your own analysis… no need to study charts or learn technical indicators
You can do this even if you've never placed a trade before in your life.
You'll have access to step-by-step tutorials that show exactly what to do, from getting set up on the right exchange to placing a 'set & forget' trade in less than 60 seconds.
You won't have to guess entry, exit points or research news events…
… and there are no charts to watch or decisions to make. Everything is spelled out for you.
If you know how to copy and paste you can do this.
You'll know the buy price the sell price and how to set it up so that you can leave the trade to run automatically.
Trades take about 30 to 60 seconds (depending on whether you're using a mobile phone or a computer).
It really is that quick and easy.
I do all the hard work and analysis and then notify you by email and on the Facebook group to alert you to any new trades.
Wait! Are Bitcoin and cryptos just a bubble?
Most people think bubbles are bad…
… a sign the market's about to crash…
that investors are about to lose everything.
The truth is bubbles are the PERFECT opportunity to make money.
In the crypto markets you can ride the hysteria all the way to the top and make 10x… 20x… even 30x gains in a year.
If you know what you're doing you can trade the booms and profit from the downturns.
This is a way to make money from Bitcoin… even when the markets are falling.
That's why is the best possible time to get involved.
1) When herd investors lose their heads, you can still make money
2) It's the perfect opportunity to get lined up for the next crypto boom
You'll know how to buy, sell and cash out automatically
You'll start with a fast-track course in basic crypto investing – from setting up an account to buying your first coin.
Once you're comfortable with the basics, you'll be introduced to techniques you can use to trade the markets.
You'll also enjoy access to a private members-only forum where you can get answers, share experiences and learn the insider buzz on what's happening in the crypto markets.
You'll get tipped off (by email) to new buying and selling opportunities the team have uncovered, including the exact instructions on what and how to buy.
That means plenty of trading opportunities as the market booms and dips and the chance to make potentially life changing profits on the way back up again.
You'll get notified of the ICO launches which Finn has torn apart and believes have real potential.
Remember he picked out Ethereum when it could be picked up for just 33p – it has since shot up 147,836%.
You'll also be invited to monthly webinars where you can hone your skills, learn new trading techniques and ask questions.
This opportunity is real and happening RIGHT NOW
• You don't need any previous experience and can start with as little as £200
• You won't be a slave to your screen or forced to time your entry and exit points to the millisecond
• You don't have to use spread or binary betting to take advantage
If you realise what an amazing opportunity this is, then I urge you to join the CRYPTO TRADERS'ACADEMY and start your trial membership right now.
And let me reassure you…
You haven't missed the boat.
Despite the massive gains Bitcoin and some other coins have made recently, it's still early days for cryptos…
Bitcoin didn't even exist before 2009.
Since then over 1,300 other cryptocurrencies and assets have been launched.
I'll share the coins which I believe have the greatest potential.
As I keep saying this really is how life changing sums of money could be made.
This is like having your own team of professional traders guiding you at each step
Remember, you don't any experience because you can 'copy and paste' these trades, with their support and coaching to know exactly how you do it.
If you're interested, we're offering a discounted 30 day trial place on the Crypto Traders' Academy today, so you can see what it's all about.
There's no commitment whatsoever
You could even invest in their recommended ICO and walk away
… it doesn't matter, even if it makes you thousands in profit
And think of it like this. Investing in just on of their recommended ICOs could potentially make you life changing money… literally hundreds of thousands from a minimal investment… and all you have to do is buy and hold.
Of course there are risk attached. I'm not going to pretend that every recommendation will skyrocket or go your way.
This is a highly volatile market and obviously I cannot predict the future. You need to be able to invest money you can afford to lose.
A lot of the ICOs that will be released are login to be rubbish and make investors nothing.
So simply wading in with zero knowledge will not work.
That's why I urge you to grab this opportunity to follow these professionals into the market and copy their trades.
I passionately believe that this market has a long way to go and that there are incredible, life changing profits to be made if you follow the right methods.
Everything you need to profit from trading Cryptocurrencies…
You don't need to know anything about the blockchain technology, economics, or fancy charting theories.
You just need a computer, laptop, smartphone or tablet with internet connection.
Unlike day trading, you don't need to spend hours at a time watching charts for a signal to appear.
While the crypto markets can be volatile (in a good way), there's no need to trade in real time.
You'll be sent all the relevant information in advance.
Just wait for the CRYPTO TRADERS' ACADEMY team to send you an alert and follow the instructions.
Let me say it again…
You don't need any previous crypto trading experience (or any other type of trading for that matter!).
And by joining the new CRYPTO TRADERS' ACADEMY – you're in the best possible place to take advantage.
You'll be coached, trained and supported all the way by a hugely successful team of crypto traders – people who have made literally millions from these markets.
If you are excited by this opportunity, then make sure you claim your trial place today.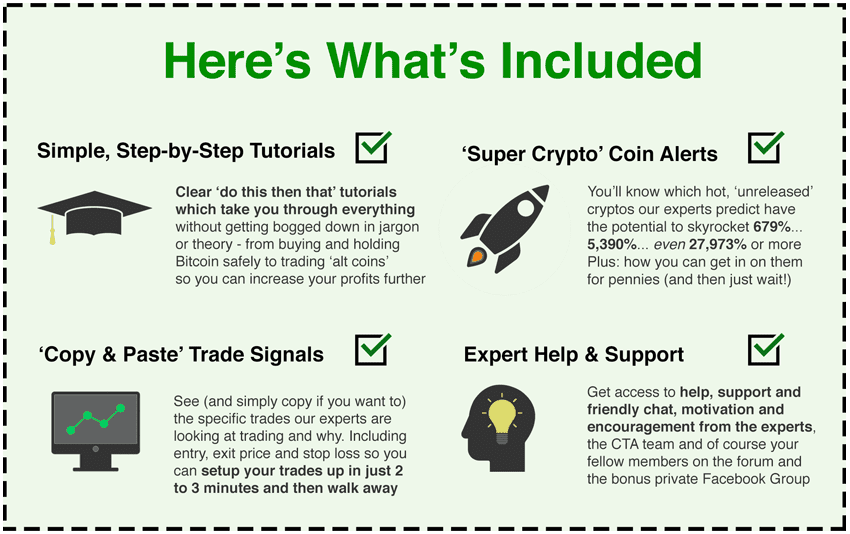 How much membership will cost…
Membership of the Crypto Traders' Academy is normally only £97 a month.
But I don't want there to be anything getting in the way from you trying this.
I truly believe that once you see the kinds of profits that you can make trading crypto, the nominal £97 a month membership fee will seem like a drop in the ocean.
But to make this even more accessible if you respond to this invitation today, you can get instant access for just £47 in your first month.
That's 30 days to look at everything, see how it all works and decide if it's right for you.
– You'll have access to all the step-by-step training
– Our experts top 'alt coin' recommendations (buy and hold coins that they believe have the potential to make between 5X and 50X returns over the next 12 months)
– Weekly 'set & forget' trading tips – perfect if you want to get stuck in and simply copy and paste the trades of an expert for short term gains
– Our crypto insider's 'to the moon' picks – these are coins with that haven't even been listed yet with the potential to skyrocket. His Ethereum pick banked him over £20 million (and out of 24 of my picks to date only 1 has lost money).
If you decide to stay a member after your first 30 days you'll pay just £97 a month, I hope you'll agree that's excellent value for a training programme and alert service that could easily recoup your initial investment in a matter of weeks.
As far as I'm aware no other crypto trading group offers this level of expertise and in-depth analysis
This is a shortcut to the most well-connected trading advice I've seen.
You'll know what's happening right now in the crypto markets… You'll get a weekly update by email of the very best opportunities.
You'll have the monthly pre-coin picks and weekly 'set & forget' trades.
You'll also have access to the our private Facebook group.
This is a safe space where you can ask questions and interact with Finn, Michael, the team and your fellow members.
As I said the subscription fee for the Crypto Insiders Club is normally just £97 a month.
But you'll get your first month for just £47 if you sign up today.
Your monthly fee will automatically renew at £97 a month until you cancel.
Of course, you can cancel your Crypto Insiders' Club subscription at any time and without further obligation of any sort.
For your total peace of mind this is all backed up by my personally underwritten 30-day risk-free guarantee.
If you're ready, take action right now.
Look, you've seen the potential. You've also seen how CRYPTO TRADERS' ACADEMY can help you to pick out the best cryptos.
This isn't a market for insiders only.
Or for the wealthy.
Or for Wall Street or City of London traders.
It's open to the rest of us…
If you're as pumped up as I am about the profit potential of Bitcoin and other cryptos, then start your 30-day trial today.
Best Regards
Nick Laight
Publisher, Crypto Traders' Academy