When should you buy a dip?
Well there are three basic conditions that need to be met:
A confirmed bull trend is present
You enter a buy trade when in a bull trend AND when price is oversold (i.e. a dip)
You trade the right coin e.g. fundamentals of the crypto are great (e.g. BTC, ETH, etc)
Assuming those conditions hold, there are two ways to execute this strategy…
Method # 1:
The simplest way is pay attention to the % dip from local peak; i.e. scale in at 20%, 25%, 30%, 35%, 40% from the local high
Any dip over 20-25% is a good entry, over 30% dip is almost always a great entry in a Bitcoin bull markets but prices usually don't dip down for long!
The larger the dip, the better the entry but also the lower likelihood of actual making the entry
This log chart below of BTC V USD of the last bull cycle clearly shows all the major dips and their final % retracement size (note: not all 20% dips are shown).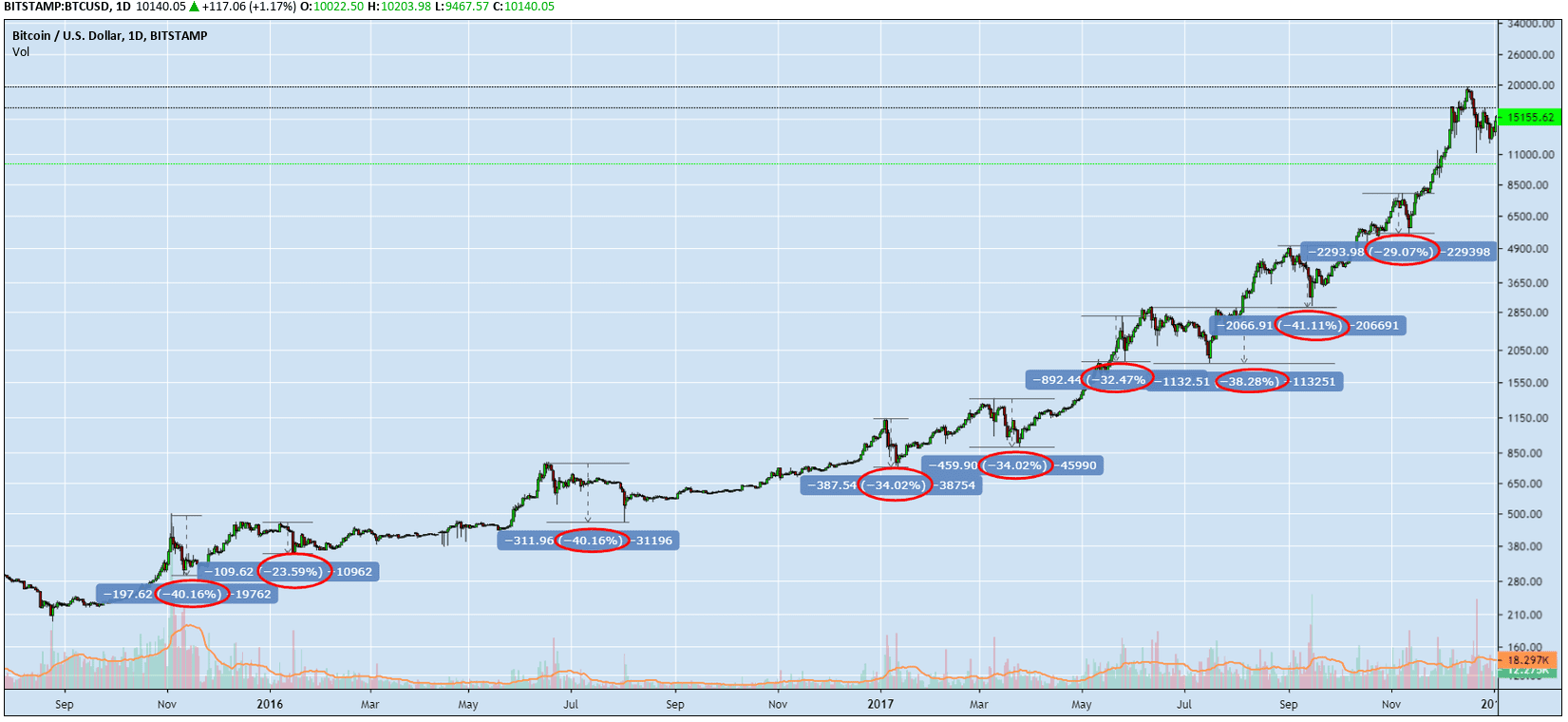 Method #2:
If you like to chart and use Technical Analysis
Our recommendation is entering when the price reaches the 1 day 100 EMA (Exponential Moving Average)
For a lower risk but less frequent option, entering at the 1 day 150 EMA is a good option too
This log chart below of BTC V USD of the last bull cycle clearly shows how the exponential moving averages act as support for price action to bounce off.
(Note: it's a log chart). It shows all the entries for 1 day 100 EMA (Blue line) with a blue arrow and all the entries which worked for both 1 day 100 EMA and 1 day 150 EMA (red line) with a red arrow.
Notes on this method:
Applicable to Bitcoin only
It really is that simple. However in practice this can be very difficult to buy when the market is heading down and there is a lot of fear!
Buying dips in a Bull trend is better than selling/shorting bounces in a bear trend as there is much more upside, i.e. better potential returns
The best entries on a dip don't last long! You need to have orders ready and waiting for the best entries…
Buying and holding long term early on in a bull trend is still the best method to make big profits but buying dips can be used to supplement this.
That's it for now. After the best dip in Bitcoin, I'm sure you'll be looking to top up your position.