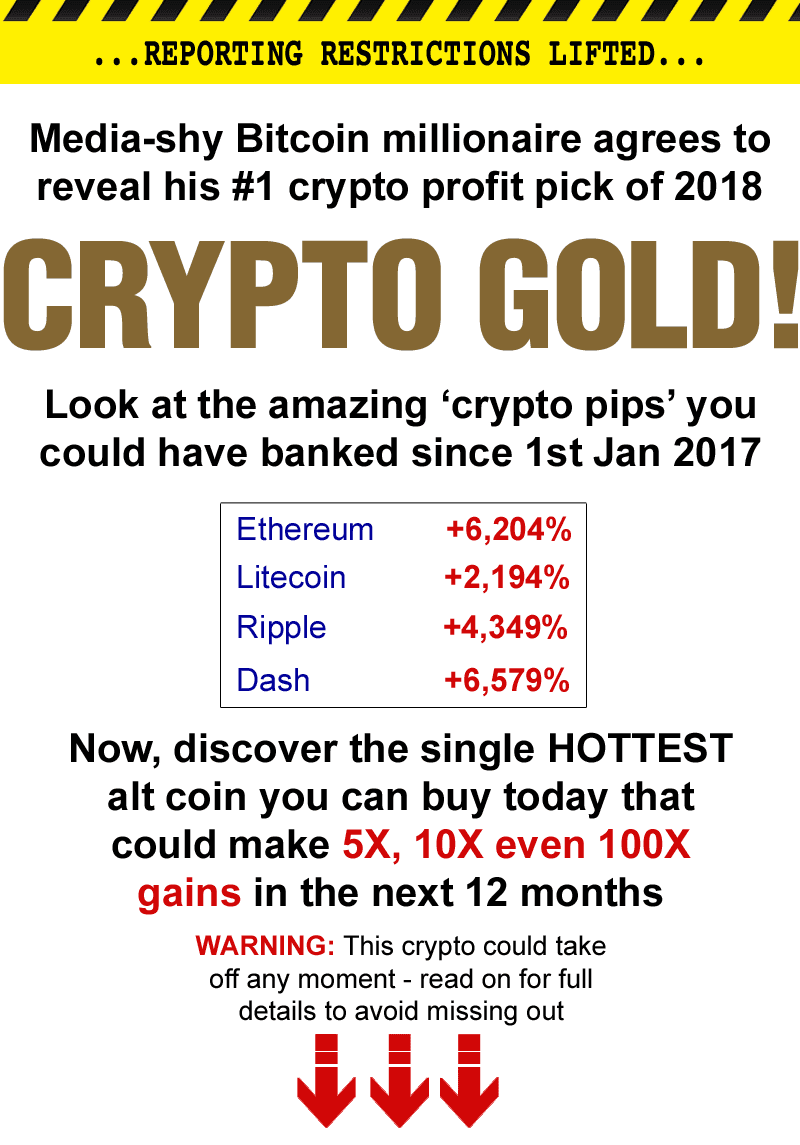 Dear Friend
Let's face it – £30 doesn't buy you much these days.
A couple of cinema tickets and some popcorn…
Maybe a Saturday night family take away…
And you'd be lucky to get change after a night down the pub with friends.
But what if I showed you how to spend that £30 in such a way that it had the very real potential to multiply many times over?
Imagine how you'd feel if your £30 grew by 493%, 668% or even 2,221% in just ONE WEEK…
…and then went on to return you 2,194%, 4,349% or 6,579% profits in the next 12 months!
Well that's exactly what's on offer right now.
Ok, you've probably guessed I'm talking about Bitcoin and the cryptocurrency markets.
But you might also be wondering…
"Can I still make these massive
gains from cryptos?"
Look, I'm sure you've heard of Bitcoin… and the reports of huge profits some people are making.
And right now, you might be concerned this is all just hype… or just too risky?
Right now Bitcoin is hovering around $15,000 and up more than than 1,457% since the start of the year.
Waiting to see what happens simply isn't an option… at least if you want to grab the genuine windfalls that are there for the taking.
And the good news is you don't need to know anything about the markets, the technology or any aspect of Bitcoin or cryptocurrencies (unless you want to of course!).
And you never have to take big risks.
What I want to share with you today is focused purely on making you money.
Of course, you can't just buy any old crypto and expect it to make you rich overnight.
With all the media hype surrounding these markets, it's getting even harder to separate hard facts from fake news.
And that's why I'm writing to you.
If you're new to cryptocurrencies and want to profit from this exciting market, I've come up with the perfect solution…
I'll reveal the ONE crypto you could buy TODAY with the potential to make HUGE GAINS in the coming months
My name is Nick Laight.
I've been in the financial publishing business since 1993.
I've published advice for traders of Forex, stocks, commodities, as well as alternative investments like property.
And cryptocurrencies are without doubt the most exciting and potentially profitable opportunity of them all!
And if you follow the advice of a genuine expert, you stack the odds of banking big money in your favour.
Of course, there's no guarantee.
This is pure adrenaline-soaked speculative trading.
The same forces that push these cryptos to make the three and four figure gains in a matter of months… are the same ones that can send prices back down.
So no matter how tempting or exciting the potential profits might be, please don't invest or trade money you can't afford to lose.
If that's all understood, please keep reading because I want to introduce you to someone that will play a key role in your future Crypto success.
I've worked with some VERY smart people over the years – from self-taught amateurs and maths geniuses… to top City traders and global investment gurus.
I can safely say that the crypto expert I'd like to introduce you to is one of the smartest and most successful of them all.
A former economist, Finn McCoyne started investing in Bitcoin long before it hit the headlines.
Starting with a stake of just £1,200 five years ago he has amassed a crypto fortune of over £34 million!
And despite his own incredible success (enough for anyone to retire on) he's still passionate about crypto investing and sharing his knowledge.
In fact, he's paid by some of the world's most influential financial institutions for his independent risk assessments. He's also a contributor to Coindesk, one of the leading crypto news websites.
But Finn didn't keep all this knowledge to himself. He started advising friends, family and a small group of investors on which cryptos to buy and sell.
You'll see some of their incredible testimonials at the end of this page.
And now, it's your chance to join them.
I've persuaded Finn to give you his #1 crypto – the one his analysis and experience tell him is a screaming buy!
Claim your copy of our new CRYPTO KICKSTART PROGRAMME today and you'll know exactly what to buy, how to buy it and how to make sure you enjoy the maximum gains possible.
And as I said, you can start with as little as £30.
Look, if you'd prefer to have someone just tell you exactly what to do in plain 'man-on-the-street' language… without any techno mumbo jumbo… or the need to cough up hundreds or thousands of pounds to join their service…
This is DEFINITELY for you.
In fact, it's probably the easiest, quickest and most straightforward way to ride this exciting new opportunity – WITHOUT taking big risks or needing any previous experience.
And once you've bought your crypto, you can relax – there's nothing else do.
The only thing you'll want to do is check the price of your crypto from time to time. 
And be prepared to get slightly obsessive!
You see, once this crypto starts moving, you'll find it impossible to resist sneaking a peak at how much you've banked since the last time you checked!
Individual cryptos can surge by 495%, 688%, even 2,221% in ONE WEEK… just as they did at the beginning of December.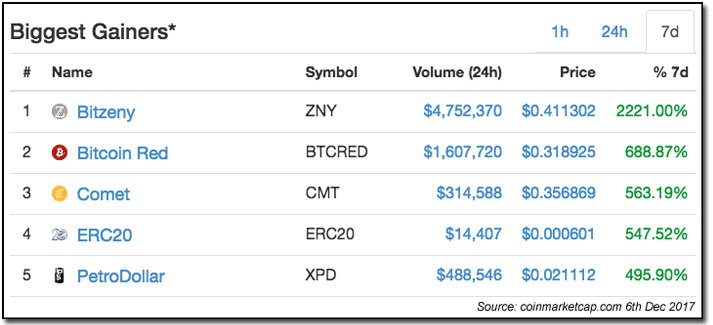 And it gets better…
If you back the right crypto, your stake could rocket by 2,194%, 4,349% or even 6,579% in the next 12 months…
…Turning your £30 into £658… £1,304… even £1,973…
I know that may seem unbelievable right now… so that's why I want to make it as easy as possible to see for yourself.
I'll send you EVERTHING completely risk-free for 30 days – you can check out Finn's number one crypto recommendation. You don't even have to buy into it… you can just watch what happens…
In fact, I'm so confident it will start to move upwards, if you aren't blown away by this tip, then you won't owe me a penny.
More on that in a moment.
It's like buying Bitcoin when
it was trading for pennies!
If you could jump in a time machine and go back to the end of 2010… Bitcoin was trading at around $0.25.
A £30 stake (worth about $45 at the time) would've have got you 180 Bitcoins.
By 6 December 2017 they'd be worth $2,291,400!
With these huge gains you might be wondering if Bitcoin is still a good buy today?
Absolutely!
Many respected market watchers believe Bitcoin has a lot further to go.
Kay Van Petersen, an analyst at Danish investment bank Saxo, correctly predicted Bitcoin's early 2017 surge to more than $2,000.
He's now saying it could hit $100,000.
And Jeremy Liew, the first investor in Snapchat, is even more bullish…
He's predicting Bitcoin at $500,000!
Even if it 'only' goes to $100,000 per coin, that's a 10X gain (1,000%). (As part of the CRYPTO KICKSTART PROGRAMME we'll show you how to buy Bitcoin.)
Important! Don't worry – you don't have to buy a whole Bitcoin! You can buy a tiny fraction of one – as much or as little as you like.
While making a 10X return on your stake is impressive, you could be making even more right now…
If you want to bank the

INSANELY

big gains like 2,194%, 4,349%, 6,204% – you need to make sure you are in on the second wave of cryptos…
I'm talking about the 'alt coins' that have launched in the wake of Bitcoin.
Relax – you don't need to understand how cryptos work or worry about anything else.
This new wave cryptos have the real potential to explode as Bitcoin did in the early days, the difference being that you can get in right at the beginning now.
There are currently 1,324 of these 'alt coins' you can choose from.
However, most of them will never make you money.
Only a VERY small number have any chance of delivering these jaw-dropping returns.
And right now, you can get our top insider tip. The one in more than a thousand cryptos that Finn believes could explode to match the mega gains that we've seen since January this year.
For example, if you'd invested just £30 in Litecoin on Jan 1, you'd be sitting on £658 by the end of November – that's a 2,194% gain!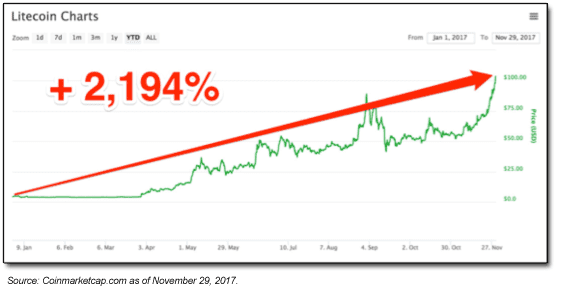 The same modest stake in Dash at the start of 2017 would now be worth £1,973 – up 6,579%.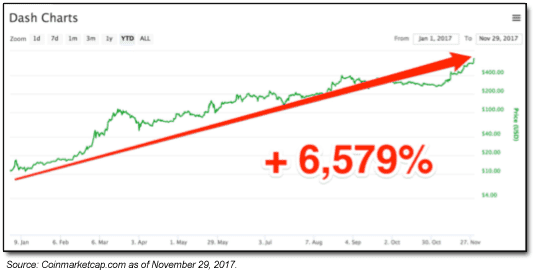 A £30 stake in Ripple would have grown to £1,304 in less than 12 months.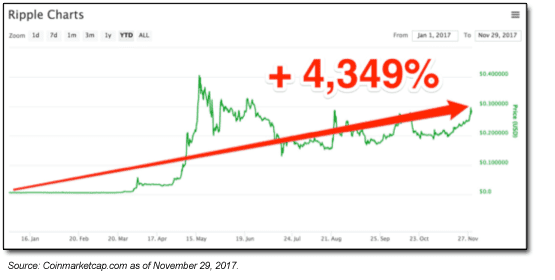 And if you'd staked the same in Ethereum you'd be up £1,861.
If you'd put £30 in each of these, your bank would now have reached an incredible £5,796!
And yet, you wouldn't have risked more than £120.
Now imagine if you'd put £100 into each…
You'd now be 

£19,326

richer!
This shows you just how insanely profitable and fast-moving this market can be… if you know what to buy in the first place.
And that's why I'm writing to you now.
Today I want to reveal details of the crypto that has the greatest potential to make you even more than these big winners over the coming months.
This recommendation comes directly from Finn who has made over £34 million from a starting bank of just £1,200. More importantly, Finn has helped others interested in this exciting market to pull in incredible returns…
People like Ian who followed his advice and was able to report that "my initial investment has grown from $0.27 to well over $300 per coin, a 11,000%+ increase."
And the #1 crypto recommendation you could have access to in the next few minutes has the potential to make that kind of return.
Here's why…
Look forward to 5x, 10x even 100x return on
your stake as the BIG BANKS pile in
The crypto you are just moments away from discovering is perfectly positioned to ride the FinTech boom (that's Financial Technology to you and me).
In simple terms, this crypto helps banks to secure their customers data and transactions so that they can't be tampered with or altered in any way.
Obviously this kind of tech could be very attractive to banks who need to retain the trust of financial authorities.
And this crypto is already making waves in financial circles. Just recently it was announced that the tech has been adopted by one of the world's biggest banks.
And once their rivals see it working, there'll be a rush to use this 'crypto tech' as an industry standard.
And that's when the price could take off in a big way.
How high could it go?
Finn has been tracking it for months and if it follows the same pattern as other breakout cryptos like Litecoin, Ripple and Dash – you can expect 5x-10x in the short term and a jaw-dropping 100X within 12 to 18 months.
A modest £30 stake would turn into £3,000… £50 would become £5,000… and £250 would soar to £25,000!
So, please don't wait a moment longer.
Simply go to the bottom of this page and click on the ORDER NOW button.
It will take you through to a secure order form where you can start your 30 day risk free trial.
Fill in your details and you'll get instant access to a simple step-by-step plan on how to get set up quickly and with the minimum of hassle.
You can dip your toe in the water and experience the thrill of owning a digital currency and watching as it takes off…
And remember, you can stake as little as £30…
Act now to lock in your
maximum potential profit
This crypto could take off any time…
It may rise steadily for weeks or months…
But when it reaches 'escape velocity', the accelerated gains can be unreal!
So that's why I urge you to act today. Accept this invitation and get instant access to the CRYPTO KICKSTART PROGRAMME.
Seriously, this is one of the few times in history when serious life-changing money can be made without needing to be rich, or skilled, or well connected…
Ordinary investors are usually locked out of the best financial opportunities by the banks, trading houses and city institutions.
But with cryptos that's all changed.
Here is an opportunity where you could potentially take £30, £50 or £100 and see it turn into thousands of pounds in a few months…
It's your chance to get into high octane investment opportunities that could bank you gains of 2,194%, 4,349%, 6,579% or more…
But the clock is ticking…
How much you make depends on how soon you act.
You don't need to join some expensive service or spend thousands on training or need a big stake to see big returns…
In fact, with the CRYPTO KICKSTART PROGRAMME you can get Finn's #1 crypto recommendation PLUS exact instructions on how to buy it… all for just £67.
But for a limited time only we are discounting that to just £19.97 for everything.
And no, that's not a typing mistake.
Why such a ridiculously low price
for what has the potential to
make you a small fortune?
Let me be brutally honest here.
There's a reason why we want to offer you all this for just £19.97…
If Finn and I can prove just how easy it is to buy one crypto AND you start making money, then it's highly likely you might want to find out about other opportunities to exploit this amazing market.
And when that happens you might be interested in getting a direct line to Finn's crypto traders' inner circle.
But that's all for later.
All you need to start today is £19.97.
That's it, no additional payments or VAT.
But please don't delay your decision.
This could be the only time you see this invitation.
Once the price starts moving on this crypto we will close this page.
With Bitcoin smashing through the $14,000 barrier, there'll be even more interest (and money) flooding into the crypto markets, adding to the intense upwards pressure on our crypto.
Other coins will come later, but this is the ONE we believe has the greatest upside potential right now.
To avoid missing out on this ground floor crypto trading opportunity and grab a guaranteed front row seat, just click on this link.
For just £19.97, you could dip your toe in the crypto pool and see what happens.
You'll get everything you need to buy and hold this crypto… including 'how-to' videos with step by step instructions.
For a limited time the CRYPTO KICKSTART PROGRAMME including Finn's crypto pick is yours for just £19.97.
Yep – for less than £20 you will have everything you need.
What's more you can order it today, act on the recommendation and – if you're not happy for any reason, still send it back in 30 days for a refund.
If you're still wondering whether to get involved in cryptocurrencies… please don't delay any longer.
The crypto revolution is happening right now.
And with the CRYPTO KICKSTART PROGRAMME you have the simplest way to grab your share.
Remember, this offer won't be around for long… as soon as the crypto takes off, this page WILL be removed.
Click here to join the fun!
See you on the other side…
Nick Laight
Publisher
Please, don't pass on this. This crypto has the potential to deliver 5x, 10x, even 100x in the coming months. Click on the button below to start your completely risk-free 30 day trial.
As I mentioned earlier, take a look at some of these incredible testimonials below:
"On Finn's advice I invested in Ethereum at under $2, I made 15x my initial investment… crypto trading has allowed me to give up the horrible 9 to 5 temp jobs that I had been doing prior to my investment in Ethereum…
Crypto trading has given me financial security and the freedom that comes with working for yourself, I am under no illusion that without his advice and guidance that this would have never happened." O. Long, London
"… my initial investment has now grown from $0.27 per coin to well over $300 per coin, over 11,000% increase! I now have trading capital well in excess of £500k.
Since then, Finn has not only pointed me in the right direction for other investment opportunities, but more importantly he has been able to steer me away from bad ones" I. Fitzgerald 
"Finn has been my sole advisor on all of my Crypto activity for over two years now… I would put my overall gain from his advice at 20x my initial investment. James Coyle
"I have been following Finn 's Crypto advice over the last 3 years and I am very much richer for doing so… making 20 times my initial investment. He has helped me understand the blockchain and its potential uses, which is exciting in itself.
However as a very novice investor, the key was the understanding I gained of the complex and changeable market. My only regret is that I didn't take all his advice… I think my gains would be 20 – 30x what they are!" Suzanne O'Connell
"Finn is that rare blend in crypto: An encyclopedic knowledge of the evolving industry, a razor sharp analyst of market behaviour; and a street-smart communicator." James Murphy
"Finn and his passion for the world of crypto and crypto trading, is the first and sole reason I dipped my toe into the markets 24 months ago.
His legendary prophecy regarding ETH (Etherium) had started to come to fruition and I jumped on board. From a starting point of knowing absolutely nothing,
I now feel I have a keen knowledge of crypto and crypto trading thanks to his solid advice and timely nods; not to mind a significantly increased stack too" Nico Jones
"… when I met Finn several years he was one of the only people I met who could truly understand and explain loads of in depth details about the crypto world – even the ones that aren't simple for developers!
His understanding and knowledge of Crypto is really impressive and hardly anyone I came across can be compared.
Goes without saying this advanced understanding yields incredible trading insights which I have seen and used many times and I regret not having used and followed all of them even some of them being against my own instinct" Henrique
"Finn advised me on my initial bitcoin purchase in late 2012. To this date, I have grown this investment by upwards of 5,000℅.
Finn's knowledge, analysis and market influence, particularly in the alt currency space, was the driving force behind all of my trading decisions and his advice was invaluable… As a consequence I have just been able to purchase my first home – a 3 bed – without a mortgage and I still have trading capital to spare!" Stephen M
Terms, Conditions and Guarantee
*Figures as at 6th December 2017
Risk Warning: There is a risk of loss in all trading. Cryptocurrencies carries significant risk and should only be undertaken by those who can afford to lose some or all of their investment.
Cryptocurrencies is by its nature speculative and can be volatile. Past performance is not indicative of future results. Before investing, or if in doubt about the suitability of an investment please seek independent financial advice. Cryptocurrencies are leveraged products. They may not be suitable for you as they carry a high degree of risk to your capital and you can lose more than your initial investment. You should ensure you understand all of the risks.
Testimonials
The testimonials you'll see are all from member's of Finn's private facebook group or from direct messages he has received.
Contact email: [email protected]
Contact Customer Services: Canonbury Publishing Ltd, Unit 5, Hurricane Way, North Weald, Epping CM16 6AA. Tel: 01992 618 045 To unsubscribe from future Crypto promotional emails, please click here
© Canonbury Publishing Ltd
Registered Office: Canonbury Publishing Ltd Curzon House 24 High Street Banstead, Surrey SM7 2LJ United Kingdom 01992 618045